$1001 to $2000
 Corner Outdoor Fountains
One of the best and most original ideas for spicing up an outdoor living area is with a corner water fountain. The only reason these fountains are not more popular is the fact that it's hard to go all-out on a mightily impressive fountain in a corner, which isn't a big deal for those who can appreciate a little finesse. Here are some corner water fountains for adding a touch of understated elegance to any garden.
These designer fountains from Henri Studio and Al's Garden Art are all masterpieces in their own right. They are miniaturized versions of the outdoor rock fountain, natural stone outdoor water fountain, three-tier water fountain, outdoor wall fountain, Andalusia fountain, all designed to fit into a corner of a backyard and turn an uninteresting and neglected piece of real estate into something infinitely more dramatic, fascinating, pleasing to the eye, and relaxing to boot!
Corner Water Fountains of Varying Sizes
You will find here corner water fountains of all sizes from something small enough to fit on a tabletop to a behemoth outdoor stone fountain measuring more than five feet across.
The baby of the bunch is the Tiering Pots Tabletop Fountain. At just four pounds in weight, this interesting fountain can be safely placed on top of furniture outdoor or indoor. The soft and varied tone of water is alternatively relaxing and seductive. What's more, the price is too good to be true. It's also perfect as a starter water fountain. Sometimes a stamp collector would start out with one set of stamps before he fell in love and collected more and more. In the same vein a person can start out with a small garden fountain design and move up from there.
The outdoor stone fountain actually comes in two different sizes, large and medium. Although a corner water fountain is a great idea for a flower garden or even a vegetable garden, you wouldn't want to overload it with a corner outdoor fountain of too big a size. The stones in either one are absolutely gorgeous and will upgrade the appearance of the area many folds, while the sound of water on stones completes the ambiance, for an effect close to magic that well-planned additions of suitable outdoor fountains are known to create.
Think of all the corner spaces at your property that are not doing anything, and then browse the corner water fountains on this page to see if one or more might just be perfect for you.
Corner Outdoor Fountains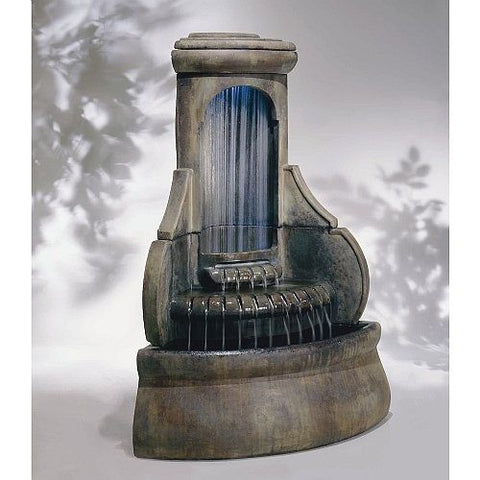 Garden Outdoor Fountains
Physical color samples available.  Please contact us for more information. Falling Diamonds Outdoor Corner Fountain Specifications: Product Dimension: 61.5"H x 44"W  Product Weight: 637 lbs. The Falling Diamonds Outdoor Corner...
$ 2,658.00